FUSE Share Certificate
It's easy to save for college and earn your child a scholarship* with FUSE (Funding-Ur-Student's-Education) Share Certificate.
Save for your child's education. We'll reward you for it.
Are you saving for the college education of a child 22 years of age or younger? TEFCU can help!
TEFCU is rewarding all members who open a new youth FUSE Share Certificate by funding the initial deposit of $250.00** (FUSE Rewards) and a scholarship* up to $1,500!
It's easy to save for your child's college tuition and/or other related expenses by making multiple deposits into a FUSE Share Certificate account.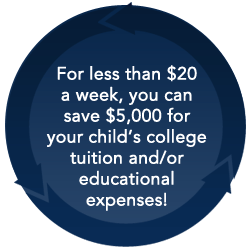 A youth account is required for a FUSE Share Certificate. To open a youth account, please provide the following:
Child's birth date
Child's social security number
Guardian's or Parent's two forms of ID
---
* At maturity of the FUSE share certificate, the TEFCU scholarship will post to the share certificate account contingent upon no early redemption of the share certificate. Each TEFCU scholarship will be equivalent to 10% of the amount that has accumulated in the FUSE share certificate account at the time of maturity. The maximum scholarship amount is $1,500 per FUSE share certificate. The FUSE share certificate will renew for the same term unless redeemed. The then-current dividend rate at the time of maturity will apply.
** The $250.00 deposit (FUSE Rewards) will be forfeited if the FUSE share certificate is closed before maturity. This offer applies to new FUSE share certificates and will not apply to existing FUSE share certificates. The FUSE share certificate requires a minimum opening balance of $25.00. Restrictions may apply. Limited time offer beginning Saturday, June 1, 2019. This promotion is subject to change at any time without notice. Despite TEFCU's best efforts to ensure accuracy, printing and website errors may occasionally occur. TEFCU reserves the right to correct such errors at any time.