FUSE Share Certificate
It's easy to save for college and earn your child a scholarship* with FUSE (Funding-Ur-Student's-Education) Share Certificate.
Save for your child's education. We'll reward you for it.
Are you saving for the college education of a child 22 years of age or younger? TEFCU can help!
It's easy to save for your child's college tuition and/or other related expenses by making multiple deposits into a FUSE Share Certificate account.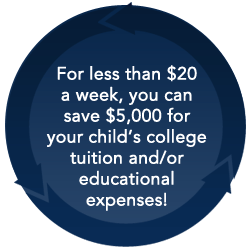 A youth account is required for a FUSE Share Certificate. To open a youth account, please provide the following:
Child's birth date
Child's social security number
Guardian's or Parent's two forms of ID
---
* At maturity, the TEFCU scholarship will post to the FUSE share certificate account contingent upon no early redemption of the share certificate. Each TEFCU scholarship will be equivalent to 10% of the amount that has accumulated (excluding dividends) in the FUSE share certificate account at the time of maturity. The maximum scholarship amount is $1,500 per FUSE share certificate. The FUSE share certificate will renew for the same term unless redeemed. The then-current dividend rate at the time of maturity will apply.